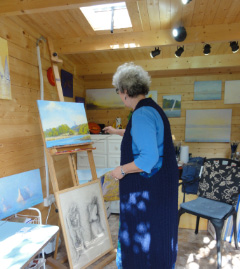 Janet began painting in oils from her parent's beach hut in Brightlingsea - but it was to be many years before she had the opportunity to study for a degree in Art....her "day jobs" tended to overflow into evenings and weekends with scarcely time to sketch, let alone paint... though she did find time to paint her first Madonna & Child.
Eventually, with two children still at primary school, she was able to take a degree in Art for Community at Roehampton followed by Post-Grad Diplomas at Central St Martin's College of Art & Design - where she experimented with etching antique glass (see glass page). Her Commissions include a window on Climate Change for the Department of Life Sciences at Whitelands College, London.
Janet enjoyed working in a wide range of media before concentrating once more on oil painting. Experimenting with oils on canvas, she developed a variety of techniques. Deep glowing colours, such as the red in her "Rabbouni," "Darfur Madonna" and the more playful "Have some Madeira me dear" are the result of several glaze layers which give an almost glass-like sheen. A very different effect comes from her love of Monet's paintings, using opaque brushstrokes of colour in portraying fleeting atmospheric light. Whilst on holiday she was fascinated by the changing play of light and colour reflected in the Needles on the Isle of Wight at dawn, painting several pictures with sunlight shining through mist and fog.
Now life has come full circle and Janet is once more sketching sailing boats at Brightlingsea and rediscovering wide skies and sunsets over the Colne Estuary. She also hopes to find venues for leading more Quiet Days exploring silence and prayer through paintings of Christ from all over the world, together with prayer-painting or praying through colour.
Janet has also been asked if she will offer tuition...her studio will hold about 4 people, and she plans to give a short weekly course in oil painting when the weather begins to warm up again in the spring of 2012.
Please email Janet if you are interested in any of the above.